Our Engagement Policies
"Engagement is one of the asset management industry's most crucial responsibilities as we strive to build a more sustainable world. It is vital not only to focus on voting, but also to sustain constant dialogue with companies, including in bond portfolio management."

Ibrahima KOBAR, CIO, Head of Fixed Income & Research
More than ever, engagement is a priority development area for Ostrum AM. Its engagement policy is based on four key principles:
Constant dialogue with companies we invest in and with debt issuers
Ostrum Asset Management set out eight themes for engagement on environmental, social and governance themes in 2020, covering both our equity and bond portfolio management. Each individual department – equity and bond – then draws on these shared themes to focus on specific initiatives in line with our updated voting policy.
Support mitigation and adapt to climate change by reducing CO2 emissions to achieve carbon neutrality by 2050 and by managing physical and transition risks.
Limit impact on environmental ecosystem by optimizing resource management and by safeguarding biodiversity.
Promote human capital by maintaining strong relationships with staff and by ensuring staff's and subcontractors' health and safety.
Enhance relationships with stakeholders by guaranteeing human rights in supply chain and by maintaining strong relationships with local communities.
Ensure consumer security ad protect their data by ensuring consumers' security and health and by ensuring their data security.
Safeguard business ethics by rolling out an anti-corruption policy and by ensuring a transparent tax policy.
Balance powers and compensation by implementing balanced governance and by making the compensation policy transparent.
Improve data transparency by facilitating access to financial and non-financial data.
Our Engagement With Companies

149
meetings and contact with companies
by end December 2022, on financial and non-financial topics

91
meetings and conference calls
on financial and non-financial topics, by end December 2022

123
companies were subject to an engagement effort
in 2022.
Active and responsible voting policy
Ostrum AM holds itself to the highest standards as a responsible shareholder and takes a stringent and exacting approach to the exercise of voting duties at shareholder meetings, as part of a comprehensive voting universe addressing environmental, social and governance themes. We pursue a transparent approach and as such we disclose details on all our votes from the shareholder meetings we attend.
100% participation in votes in our voting scope
Download our voting policy and our voting rights exercise report
Engagement initiatives
Ostrum Asset Management pursues a consistent policy and with this in mind, we go beyond the individual engagement initiatives coordinated by our Portfolio Management teams. Each year, we pledge to get involved in collaborative initiatives that resonate with our own convictions.
Our last three collaborative commitments in 2021:
CDP - Science-Based Targets (SBT) Campaign
The CDP engagement campaign commits companies to adopt science-based (SBT) emission reduction targets. A global investor network draws on this engagement to urge hundreds of the most impactful companies to set science-based targets.
Read more about the CDP Campaign
Global Investor Statement to Governments on the Climate Crisis
This announcement is coordinated by the seven founding partners of The Investor Agenda, and is signed by 457 investors representing more than $41 trillion in assets. Drawn up before for the COP 26, the statement calls on governments to raise their climate ambition and implement robust policies to meet their goals.
Read more about the 5 emergency actions requested by the Global Investor Statement to Governments on the Climate Crisis.
Investors for a Just Transition
This initiative, managed by Finance for Tomorrow, brings together asset managers and holders from the financial ecosystem to promote a socially acceptable transition to low-carbon economies. In order to move towards a just transition, this coalition has a triple objective: to encourage companies integrate the just transition into their environmental strategy, to create an academic partnership and to pilot a "Just Transition Hub".
Read more about the Investors for a Just Transition coalition
Developing and promoting ESG standards
Ostrum AM plays an active role in developing the responsible investment standards of the future across various industry groups and bodies, supporting the promotion and standardization of CSR and ESG practices.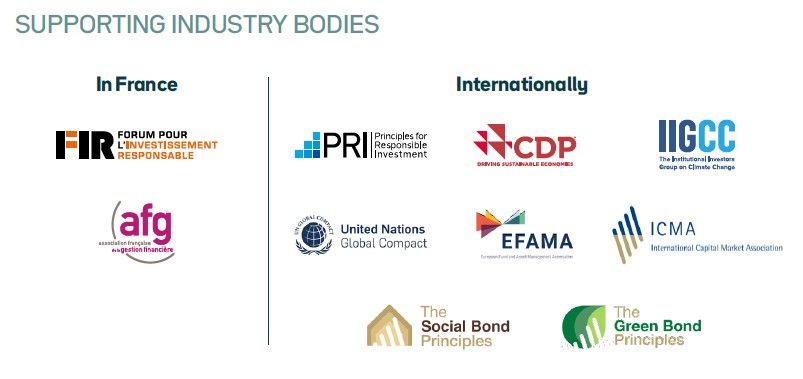 INSIGHTS CSR / ESG
06/19/2023
Reserved for pros
INSIGHTS CSR / ESG
03/17/2023
Reserved for pros