Read our market review and find out all about our theme of the week in MyStratWeekly and its podcast with our experts Axel Botte, Aline Goupil-Raguénès and Zouhoure Bousbih.
Topic of the week: Summer highlights
The fall in surveys foreshadows a weakening of growth in the euro area;
However, inflation remains high in the euro area;
Some tensions have however occurred on the money market;
Activity slowed in China. The real estate crisis and the sluggishness of the labor market are weighing on domestic demand;
Financial risks are taken into account by the Chinese authorities with measures targeting mortgages and LGFVs;
Jackson Hole reflects the anxiety of the Fed and the ECB about the mechanism of price formation and medium-term inflation risks;
The rise in interest rates in August led to profit taking on risky assets. Equities nevertheless rebounded from mid-August.
The dollar benefited from the rebound in the 10-year T-note to 4%. The yen and the euro retreated.
Market review: Conflicting signals
Poor PMI readings in Europe as inflation stays elevated (5.3%);
US: 187k payroll gain but unemployment up to 3.8%;
Yield curve steepening continues;
Stocks rebound as primary market activity heats up in credit.
Chart of the week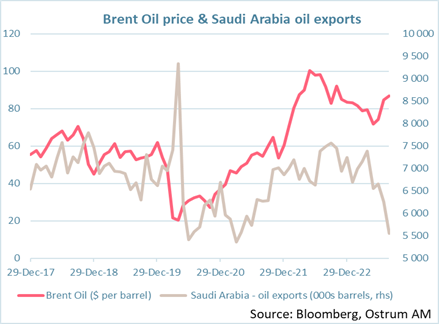 The price of oil has resumed its upward path since the beginning of the summer to approach $88 per barrel of Brent.
OPEC+ is still pursuing a high-price strategy as Saudi Arabia oil exports have plunged to levels last seen in the covid recession. Meanwhile, oil production in the United States seems to be stagnating at 12.4 million barrels per day.
The rebound in oil in the context of Chinese consumer weakness may add to upside risks to inflation in the years to come.
Figure of the week
1,400
This is the amount in billions of dollars of fossil fuel subsidies at the G20 level in 2022. This amounts to 2.5 times the 2019 total.
Listen to the podcast (in french only)
INSIGHTS MARKETS
10/03/2023
Reserved for pros
Podcast
Reading time : 30 min.
NEWS MARKETS
09/08/2023
Reserved for pros
Podcast
Reading time : 30 min.
NEWS MARKETS
09/08/2023
Reserved for pros