Ostrum AM is a longstanding advocate of inclusion and diversity in the workplace, and with this goal in mind we decided for the second time to assess the impact of our initiatives and identify areas for future improvement, relying on an external certification body, Mixity.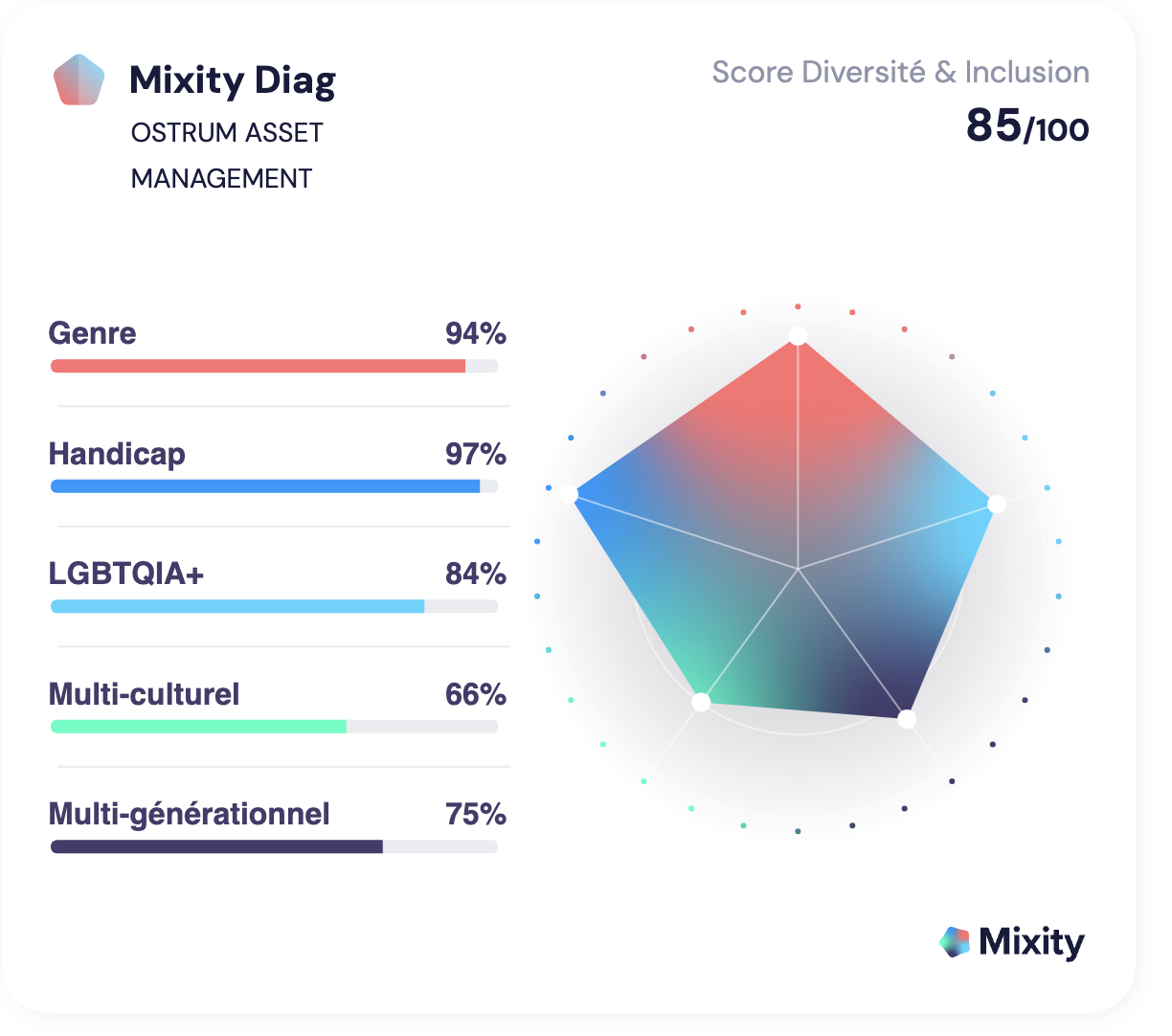 Mixity is the first start-up to develop a methodology that analyzes corporate diversity and inclusion policies.
Mixity drew on five indicators to assess the scope of Ostrum AM's diversity and inclusion policy i.e. gender, disability, sexual orientation, multicultural dimensions and multigenerational aspects.
Ostrum AM is proud to have achieved an overall score of 85% up 7 points from 2021 and well above the industry average. This score breaks down as follows:
Gender: 94% vs 91%;
Disability: 97% vs 88%;
LGBTQIA+: 84% vs 64%;
Multicultural: 66% vs 65%;
Multigenerational: 75% vs 73%.
These results well reflect the depth of Ostrum AM's diversity and inclusion policy.
Significant examples include:
The Ostrum ExCom comprises 45% women as at 06/30/2023;
100% staff aware of gender or sexual orientation-related biases;
The number of paid parental leave days for the co-parent is increased.
In 2024, Ostrum AM will continue to do so, notably through:
A continued pro-active approach to including staff with disabilities;
Implementation of initiatives to attract and recruit staff from priority city neighborhoods;
Ongoing efforts to raise awareness of stereotypes, particularly for managers.
NEWS CORPORATE
05/16/2023
Reserved for pros