Ibrahima Kobar, Global Chief Investment Officer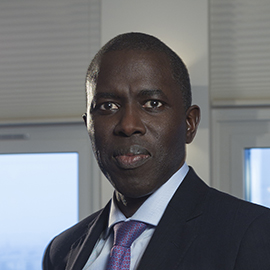 Ibrahima Kobar began his career in 1989 as statistician at the economic, banking and financial research at Société Générale. In 1991, he joined Midland Bank where he acted as actuary/fixed-income manager.
In 1994, Ibrahima Kobar joined Ixis Asset Management as insurance portfolio manager in the bond management department. In 1998, he was appointed head of insurance management, derivatives and structured products.
In 2007, he became head of bond management and, in 2010, CIO Fixed-income at Natixis Asset Management and member of the Executive Committee.
In 2017, he became Global CIO. He has been Chief Investment Officer at Ostrum Asset Management since November 2020.
Ibrahima Kobar is an actuary with a degree from Institut de Statistiques de Paris (ISUP) and is a member of Institut des Actuaires Français (IAF). He is also Chartered Financial Analyst (CFA).