The expert magazine of Ostrum AM
Read our market review and find out all about our theme of the week in MyStratWeekly with our experts Stéphane Déo, Axel Botte, Aline Goupil-Raguénès and Zouhoure Bousbih.
This week:
Topic of the week: policies to fight against global warming – carbon price and green investments
Efforts made so far in the fight against global warming are very insufficient;
Beyond the need for more ambitious greenhouse gas reduction targets, the urgency is for massive, comprehensive and coordinated concrete action;
Setting a carbon price is a quick and easy tool, but not sufficient;
This pricing must be accompanied by a clean energy investment policy;
Governments have a critical role to play in attracting private investment and ensuring a just transition.
Market review: Autumn clouds
The S&P 500 lost 5% in September;
The rise in long yields hits growth stocks;
The energy crisis is worsening in Europe and Asia;
Resilient IG spreads despite equity volatility.
Chart of the week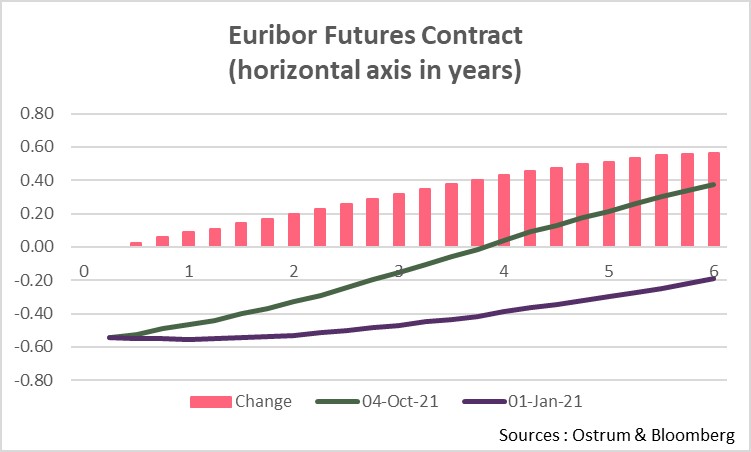 Fed funds expectations have increased significantly, especially after the last FOMC. Less commented, the evolution of the short part of the European curve is also interesting.
At the beginning of the year, future contracts did not anticipate a positive rate (on the Euribor 3 months) even over a 6 year horizon. At present, these same contracts have positive expectations for a four year horizon.
More surprisingly, the March 2024 futures contract is 25bps higher than the spot. It therefore seems that the market anticipates an increase in rates over a horizon of only two and a half years.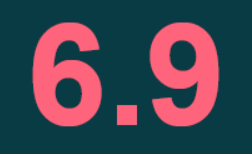 6.9%: this is the performance gap between the best (financial + 2.3%) and the worst (industrial - 4.6%) of the 11 S&P sectors in Q3 2021. This is the smallest gap since the launch of sector indices in 1989. The previous record was 8.1% in Q3 1989.