The expert magazine of Ostrum AM
Read our market review and find out all about our theme of the week in MyStratWeekly with our experts Stéphane Déo, Axel Botte, Aline Goupil-Raguénès and Zouhoure Bousbih.
This week:
Topic of the week: «The New climatic Silk Roads»?
China is a leader in renewable energy but remains highly dependent on coal because of the risk of lack of energy to boost its economy;
China has the opportunity to improve global infrastructure networks in a sustainable and inclusive manner;
B3W and BRI must be complementary to achieve this goal.
Market review: Coming up for air
As uncertainties are lifted, equities move up again;
Putin alludes to increase in Russian gas exports;
Higher yields amid stagflation fears;
High yield under pressure, Chinese contagion?
Chart of the week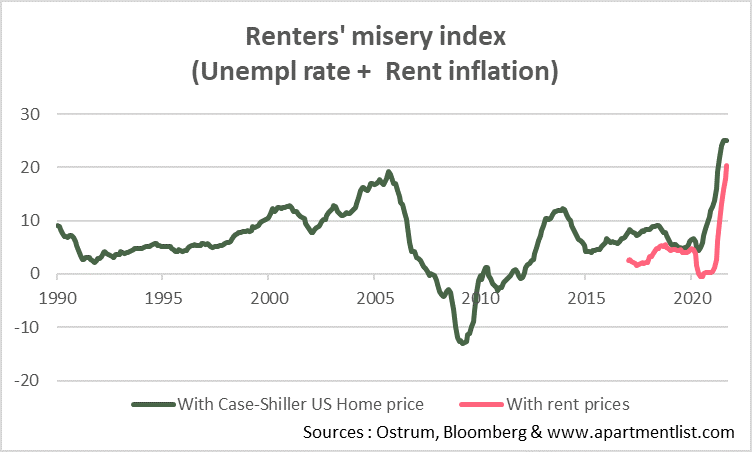 The misery index is an antiquity that was used during the stagflation period of the 1980s and 1990s. It simply summed up the unemployment rate and the inflation rate.
On this chart we calculated the renters' poverty index by simply replacing consumer inflation with rent inflation.
This sums up one of the Fed's current dilemmas: it must maintain a lax policy because the unemployment rate has not fallen as much as desired, but at the same time it creates very strong inflationary pressures in the real estate sector.

Figure of the week 6.9
The number of people who have come out of "absolute poverty" today.
Or 1.3 billion since 1990.