The expert magazine of Ostrum AM
Read our market review and find out all about our theme of the week in MyStratWeekly with our experts Stéphane Déo, Axel Botte, Aline Goupil-Raguénès and Zouhoure Bousbih.
This week :
Topic of the week: Tensions on the Irish protocol: Return of the risk of hard Brexit ?
Less than a year after Brexit took effect, UK calls for a reform of the Irish protocol;
If talks with EU fail, UK threatens to trigger Article 16, lifting certain provisions of the protocol;
The EU is preparing retaliatory measures in this eventuality, including the suspension of the free trade agreement;
Therefore, the risk of a hard Brexit is back. If tensions escalate, uncertainty will weigh on UK growth and lead to higher volatility of the pound.
Market review: Renewed sanitary angst
Covid cases up sharply in Europe;
Late pullback in European equities;
Bunds dip back below -0.30%;
The euro weakens further under $1.13.
Chart of the week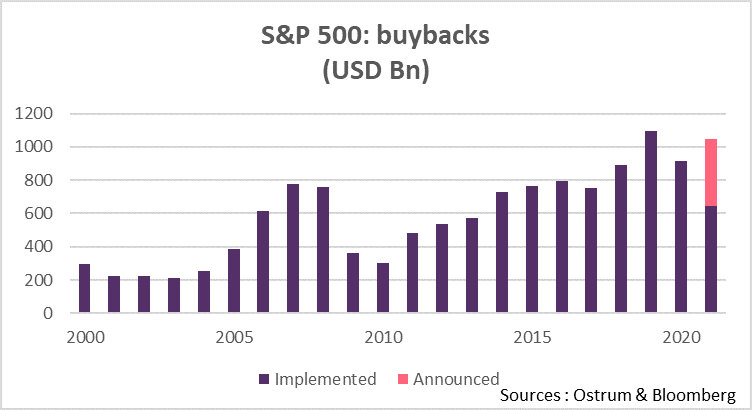 The share buybacks on the S&P have amounted to $642 billion over the first 10 months of the year. But if we add the announcements, the level exceeds 1,000 billion for this year!
With margins returning to historical highs, cash flows are also very high and US companies have decided to return much of this cash to their shareholders. This is a major support element for equity markets.
Figure of the week
The number of lockdown days announced in Austria. The renewed spread of the pandemic is worrying and has already begun to destabilize markets.