The expert magazine of Ostrum AM
Read our market review and find out all about our theme of the week in MyStratWeekly with our experts Stéphane Déo, Axel Botte, Aline Goupil-Raguénès and Zouhoure Bousbih.
This week :
Topic of the week: REPowerEU: Urgency to quickly reduce EU's heavy dependence on Russian energy
The REPowerEU plan aims to make the EU independent of Russian energy well before 2030 while achieving carbon neutrality by 2050;
It is based on 4 axes: increasing energy savings, diversifying sources of supply, accelerating the deployment of renewable energies and making massive investments;
The Recovery and Resilience Facility will play an essential role alongside Member States and private investments;
The success of this plan depends on the will and the capacity of the Member States to cooperate and carry out the investments and reforms essential to ensure the energy security of the EU.
Market review: A little respite for equities
Bond rally and strong rebound in US equities;
The dollar drops; euro through $ 1.07 threshold;
Bond sales weigh on 30-year euro yields;
Fragile equilibrium in euro credit space.
Chart of the week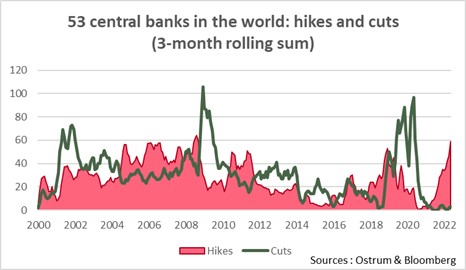 On our count there has been 59 rate hikes in the world over the past 3 months. This is very close to the all time high recorded in mid-2008 slightly above 60 hikes. This follows a near-record high number of cuts in 2020 during the Covid pandemic outbreak.
Many comments are concentrated on the major central banks, the Fed and the ECB notably that are putting in place their exist strategy. But this has to be viewed in a much general context of global monetary tightening.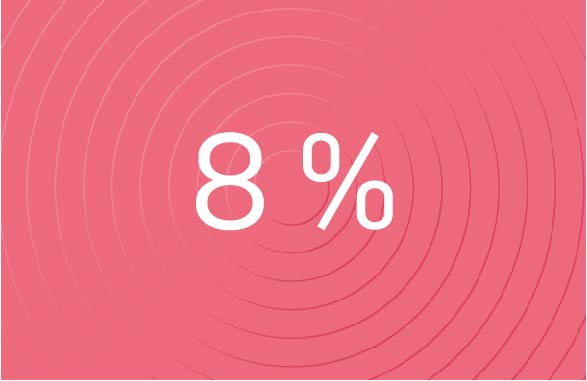 Figure of the week
So far this is year, analysts' EPS expectations for the EuroStoxx have been revised up by 8%. This is yet another example of the resilience of profits, despite all the headwinds.