The expert magazine of Ostrum AM
Read our market review and find out all about our theme of the week in MyStratWeekly with our experts Stéphane Déo, Axel Botte, Aline Goupil-Raguénès and Zouhoure Bousbih.
This week :
Topic of the week: Inflation, global phenomenon
Many commentaries explain that inflation dynamics are different from country to country. This view does not really stand up to analysis: a very large part of inflation is common to all OECD countries;
For the investor, it is both necessary to have a global approach; more than a dozen countries have inflation-linked bonds. Country differences are sufficient to provide significant diversification opportunities;
On the other hand, equities become particularly vulnerable to higher rates. And so the stock-rate diversification that we have experienced over the past two decades is probably dead.
Market review: Equities dip ahead of Fed meeting
Fed: 50 bp hike and QT announcement this week;
Higher yields lead to repricing of risk premia;
US equities under pressure amid fund outflows;
King dollar reigns as the only safe haven.
Chart of the week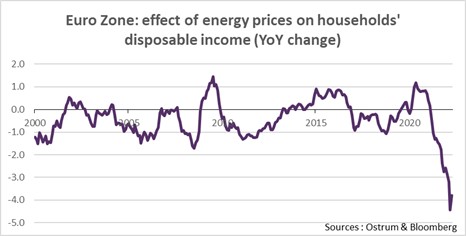 Rising energy prices are an important component of inflation growth in the euro area. It is also a negative contribution to household disposable income.
Using Eurostat figures, it can be seen that the change in energy prices has reduced household disposable income by about 4% over the last 12 months.
This is therefore a significant recessionary effect that should weigh on the trajectory of household consumption in the coming months.
Figure of the week
The spread between 30-year inflation swap rates in the US and in the euro area. The premium on 30-year US inflation average 45 pb since 2010.