The expert magazine of Ostrum AM
Read weekly markets analysis by Axel Botte, our Global Strategist.
Key Points
Biden wins elections, majority still uncertain in Senate
Fed : monetary status quo prevails
Risk assets (equities, credit, high yield) burst on vaccine progress
Dollar plummets, gold and cryptocurrencies gain
The US elections set the tone for financial markets throughout last week. As a Joe Biden victory became more likely, equity market indices gained ending up posting weekly advances in excess of 8 %. Still the balance of power is likely to restrain the room for maneuver of the Biden Administration going forward. US Treasury bond yields initially dropped before strong employment data sent yields back above the 0.80 % threshold on 10-year maturities. In the euro area, Bunds remain somewhat insensitive to US note yield gyrations as the German benchmark closed last week virtually unchanged near -0.62 %. Monetary policy prospects keep a lid on European sovereign bond spreads. Italian spreads indeed are now trading about 2020 lows. Credit markets participated to the global risk rally. High yield spreads tightened by more than 40bp in the wake of the sharp outperformance of CDS indices buoyed by lower volatility. Renewed widespread dollar weakness goes hand in hand with the risky asset rally, but also turns out to be a boon for gold and cryptocurrencies. The Australian dollar and Sterling appreciated despite additional monetary easing measures in both jurisdictions.
Chart of the week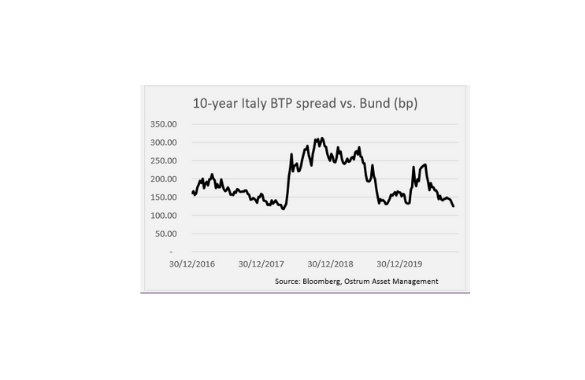 Government bond markets remain well oriented despite the sanitary backdrop and political risks.
Italian spreads hit new tights. The spread on Italian BTPs against Bunds is now about 125bp compared with 250300bp at the height of the political crisis in 2018.
PEPP flexibility is fueling excess demand for BTP securities. Japanese accounts also have initiated significant exposure to BTP this year. In turn, Italy debt agency is tapping household savings (via BTP futura) and the USD market. This will take BTP supply pressure off markets.
A Biden Presidency but risks of a divided Congress

Joe Biden won the presidential election after a very tight race and several days of indecision. Joe Biden may have won the last four undecided states, including Arizona and Georgia, two GOP strongholds historically. Donald Trump still has not conceded and threatens of multiple lawsuits on alleged fraud. The popular vote, which yields a clear 4 million vote margin in favor of Joe Biden, does not fully reflect the division of the country and the difficulties that the incoming Administration may face to implement its agenda. The democrat majority in the House of Representatives will be slimmer than two years ago. The Blue camp may lose a total of 7 seats. Joe Biden, a centrist politician, will have to work with the most progressive wing of the Democratic Party. In parallel, the elections of about one third of the Senate probably did not lead to change in majority. Two seats will be decided in run-off elections in Georgia on January 5th. The next few weeks will be extremely important to gauge the room for fiscal maneuver of the Biden Administration. There is a distinct possibility that Joe Biden will run into Mitch McConnell's opposition to tax hikes, which may force the Biden Administration to make trade-offs on the spending side.
Fed: monetary status quo

In this context, Fed made no changes to its monetary policy. Jerome Powell only eluded to discussions regarding asset purchases, without offering details. The monetary institution continues to intervene to the tune of $120b a month, including $40b worth of mortgage-backed securities. The Fed may have to act if a Republican-led Senate reduces the chances of a large fiscal stimulus. Monetary policy is not a substitute for fiscal policy, but financial markets may still react positively.
Bond markets have erased part of the earlier steepening movement observed since the end of summer. The yield on 10-year US notes rose towards 0.88 % on election night in the wake of speculative shorts on long-dated bonds. Initial election results hinting at a Trump victory gave way to short covering sending yields down towards previous technical levels of 0.72 %. Inflation breakeven have even been under pressure in this context.
The quarterly refunding announcement of US Treasury indicating a smaller than expected increase in longdated bond issuance also favored unwinding of short positioning. Duration sold to the market in the current quarter will be higher on maturities ranging from 2 to 7 years than on the back end of the yield curve.
The upturn in yields towards the end of the week appears traceable to better-than-expected economic data releases. The US economy added 653k jobs in October and the unemployment rate fell fully 1pp to 6.9 %. The latest batch of activity surveys point to continued activity growth this quarter. The risk of a second wave in the wake of Europe where lockdowns have resumed remains the main downside risk fto the economic outlook.
Markets ignore double-dip recession in Europe

The return of the recession in the euro area in the fourth quarter is a certainty. Christine Lagarde made it clear that monetary easing is on its way. All policy tools will be recalibrated, which likely include expanded asset purchase programs and easier terms for long-term bank funding. Bunds have remained mostly insensitive to volatility in US rates and keep trading below the deposit rate. Sovereign spreads are well oriented despite competition from EU debt issuance as the second syndicated deal for 5- and 2+30-year bonds looms later this week. Italy bond spreads shrank by 10bp last week.
Donald Trump's defeat talks away the risk of disorderly protectionist measures. The dollar resumed its slide to the benefit of equity markets most major currencies (euro, yen, yuan) and substitutes to currency such as gold and cryptocurrencies. The rise in equity markets started among large-cap stocks leaving behind US small capitalizations. However, hope for an effective vaccine is truly a game changer and most sectors hit hardest by the coronavirus crisis were flying on Monday. European markets also reacted very positively to the vaccine news.
Credit markets have also greatly benefitted from the supportive vaccine news and the general upbeat tone across risky markets. ECB credit buying accelerated in October adding up to €11b in gross terms. The dubious hypothesis that bank debt may be added to the pool of bonds eligible to ECB purchase programs is resurfacing in broker research. This has helped the performance of the banking sector. The primary market is expected to be active with 40b worth of issuance over the coming weeks. In parallel, the rebound in stock markets triggered a steep decline in volatility and a concomitant reduction in demand for CDS protection. The iTraxx Crossover raced through the 300bp threshold. High yield bonds also enjoyed a significant rally in Europe (about -40bp last week) and the US markets (-70bp).