The expert magazine of Ostrum AM
Read weekly markets analysis by Axel Botte, our Global Strategist.
Key Points
After Biden's win, markets boosted by vaccine
Un-heard of inflows in equity funds
European stock markets up 8 % last week
T-note yields near 1 % before pulling back to 0.90 %
The possibility of a rapidly available vaccine sparked massive reallocation of capital towards risky asset markets. Trading volumes on equity markets highlight the importance of Pfizer's announcement. European indices gained about 8 % in the last five trading sessions. The rally in value stocks continued to the detriment of growth stocks. FANG stocks lost 4 % limiting S&P 500 weekly advance to 2 %.
Bond yields crept higher last week. The yield on US 10-year notes came close to the 1 % in the wake of the monthly auction before pulling back towards 0.90 %. Central bankers' message is indeed unchanged so that Bund yields (-0.55 % at weekly close) also rolled over. Sovereign bond spreads are trading near 2020 lows (just 121bp on 10-year BTPs) Credit spreads in IG corporate bond markets have fallen below the 100bp threshold vs. Bunds. High yield spreads (403bp) have tightened by as much as 77bp so far in November. USD-debt spreads, including that on emerging market bonds, also tightened considerably.
Lastly, the dollar traded sideways. The euro appears to be topping out about $1.18 whilst cable now trades above $1.31. The Japanese yen (105) depreciated on the back of declining investor risk aversion. Measured RBNZ easing contributed to 2% gain in NZD.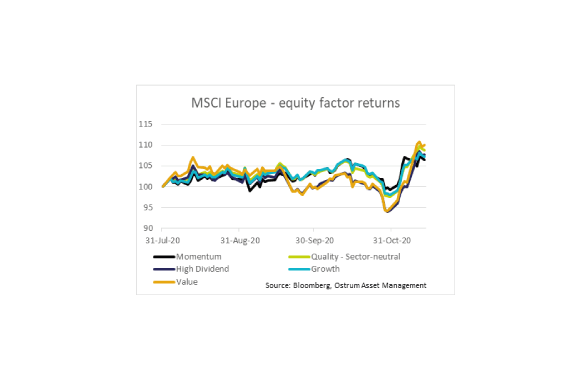 Last Monday's vaccine news undoubtedly improves the economic outlook and triggered both style and sector rotations within the equity market.
The vaccine announcement amplified the rally in value stocks that started in late October and boosted high dividend stocks. Game-changing news hit momentum stocks hard as equity investors bought back short positions. The quality factor, which outperformed significantly through 2020, gained but did underperform the broad market indices last week.
Light at the end of the tunnel

The pandemic caused unprecedented contraction in activity in 2020. Economic stimulus put forward since last spring helped to cushion the economic blow, but a self-sustaining recovery still requires an end to the pandemic. Without control of the pandemic, growth may continue to follow a stop-and-go pattern as lockdown measures are reinstated. Lockdowns have indeed resumed in Europe since the start of this month. New York and Chicago took curfew measures. In this context, a vaccine represents light at the end of the tunnel. Nevertheless, logistics issues and public health challenges (will population accept the vaccine?) exist. Pfizer announced production enabling vaccination of 650mn people by the end of 2021. Other treatments and vaccines should be available in early 2021. It remains of the utmost importance for central banks to mitigate liquidity risks due to the uncertainty regarding the duration of the current pandemic. This has indeed been the message of the main Central Banks (Fed, ECB, BoE) at last week's virtual Sintra meeting. Recovery hopes related to the availability of a vaccine will not be enough to force a change in the current monetary policy stance.
Furthermore, despite the confirmation of Joe Biden's victory, the absence of a democratic majority in the Senate and a chaotic transition imposed by Donald Trump have postponed stimulus efforts and complicated the management of the health crisis at a time when virus cases accelerate in the US.
The vaccine is a game-changer

Financial markets have chosen to ignore short-term risks jumping to a new post-Covid equilibrium. Asset allocation flows have been massive since the start of the week. Trading volumes in Europe have been roughly twice the norm. A vaccine does change the perceived distribution of risks. Weekly inflows into global equity funds hit a record $44.5b, including $32.5b flows into US equity funds, the second largest ever on record. Emerging markets are also in high demand. Conversely, the run-up in risky assets prompted investors to pull $17.8b out of money market funds while US Treasury funds saw $4b in redemptions, the largest outflow since the spring.
Trends within equity markets are quite revealing of how investors reacted to game-changing news. Short covering flows has greatly benefitted the European banking sector. The resumption of dividend payments still requires authorization from the banking regulator whilst asset quality will depend on the outcome of current loan moratoria. Value stocks extended the rally that started in late October to the detriment of quality, an equity factor that had been in favor throughout 2020. In the US, media and technology stocks that had greatly benefitted from stay-at-home saw some profit-taking.
T-note yields near 1 % before pullback

US bond yields crept higher early on last week as the US Treasury auctioned new 10-year Treasury bond benchmarks on the eve of Veterans' Day. T-note yields sold off to 0.98 % high before consolidating on short covering in the wake of Jerome Powell cautious comments. Slim primary dealers' inventories ensured success of the auction despite its unprecedented size of $41b. Still, the yield on 10y notes closed last week 7bp higher. In turn, 30y bonds (1.65 %) firmed up after last Thursday's auction. Asset swap levels (32bp) on long-term bonds have trended lower since the elevated levels in March (70-80bp).
Similar tensions in Bund markets swiftly disappeared. Demand for euro area sovereign bonds remain very strong as the ECB contemplates further easing measures in December. The ECB may recalibrate asset purchase programs, improve the terms of the Targeted Long-Term Refinancing Operations (TLTROs III) and might even take steps to encourage consolidation in the banking sector. Furthermore, the second syndicated deal of EU bonds linked to the SURE program only confirmed investor appetite for EU AAA-rated securities. Bonds with 5- (mid-swap – 9bp) and 30-year maturities (mid-swap + 21bp) received strong bidding and spreads narrowed in the wake of the transaction. Another deal, possibly a 15-year bond sale, is expected at the end of November. Against this backdrop, sovereign spreads keep narrowing to new lows as global risky asset markets rallied. The spread on 10-year BTPs hovers about 120bp against Bunds as the Italian Treasury seeks to tap the USD funding markets in coming days and raised €5.7b via a new BTP Futura retail bond last week.
Corporate credit is outperforming across both European and US markets. The spread on euro IG bonds dipped below the 100bp for the first time since February. Financial-sector bonds have been well bid on low expected issuance in 2021. A sweetening in TLTRO terms may have a significant impact on covered bond issuance next year.
In addition, high yield spreads accelerated to the downside towards 400bp whilst iTraxx XO traded within 300bp. European high yield continues to enjoy low levels of defaults with 1.5 % default rate so far in 2020.