The expert magazine of Ostrum AM
Read weekly markets analysis by Axel Botte, our Global Strategist.
Key Points
Massive outperformance of risky assets in November

Expected ECB easing keeps yields, sovereign spreads low

Dollar slide fosters carry trades

Rotation into value may have legs
Thanksgiving week tends is usually uneventful amid low trading volumes. Yet financial markets have continued to ascend in the wake of US Tech rebound. Nasdaq gained 2.5% last week. In Europe, indices went up 1.8% thanks to a bounce in bank stocks and cyclical value linked to the commodity complex. Oil stocks benefit from the pickup in crude prices (Brent 48$).
The US yield curve steepened on long-term maturities, but buybacks occurred late last week. The yield on 30y USTs dipped below 1.60%. In parallel, Bund yields fell back towards -0.60% whilst sovereign bond spreads kept on narrowing. The yield on 10-year Portuguese bonds traded in negative territory.
Credit spreads in European IG space fell by 23bp in November. High yield outperformance is massive (102 bp rally in November). In USD credit markets, performances are similar. The common denominator seems to be dollar weakness. The green back lost 0.5% last week. The euro appreciated to $1.196.
Chart of the week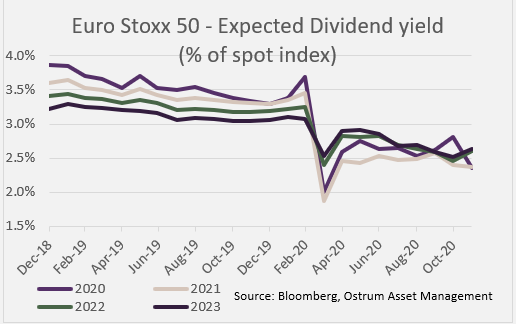 Dividends are the main component of long-term returns on equities. In 2020, there has been a record number of reductions or even cancellations of dividends to shareholders, including payments related to fiscal year 2019. High-dividend stocks have indeed been an underperforming factor this year.
The expected recovery should lead to a pickup in expected dividend payments from 2022 onwards looking at dividend futures quotes. The recent rise in the Euro Stoxx 50 index however will dent future dividend yields which may hover about 2.6% in years ahead compared to an historical average of 3.5%.
Sharp rise in risky assets in November

The Thanksgiving break is an opportunity to review the latest trends in financial markets. In November, risky assets performed very strongly on the back of several announcements of Covid vaccines becoming available shortly and upbeat data out of both the US and China.
The S&P 500 posted double-digit return last month (+11%). Implied volatility finally dropped below the 20% threshold for the first time since February. In fact, investment flows into World equity funds are unprecedented. The US market attracted a large part of these equity inflows.

The widespread rise in equity indices is accompanied with significant trend reversals including a sharp bounce in cyclical value stocks to the detriment of growth stocks. The outperformance of the Russell 2000 index vs. the Nasdaq 100 gauge resembles the turnaround in technology stocks in 2000. In Europe, the change in investor sentiment regarding the banking sector is quite remarkable. The euro area banking sector, which had been sold heavily throughout the year 2020 (the SX7E index is still down 22% year-to-date), rebounded by fully 40% this month. The monetary easing already advertised by Christine Lagarde, the possible resumption of dividend payments suggested by the Bank of France governor and consolidation effort has sparked considerable short covering in banking stocks.

The decline in the US dollar is an important factor in the sharp drop in risk aversion. The liquidity offered facilitates carry trades on risky debt securities, commodities, emerging market currencies and cryptocurrencies. Regarding US high yield markets, where spreads have shrunk by more than 100bp in November, the rebound in crude prices improved investor sentiment considerably even as 12-month default rates stand at 24% in the energy sector. Other commodities (notably industrial metals) have greatly benefited from stronger demand from Chinese firms rebuilding inventories at cheap price levels. This may potentially raise producer prices and even consumer prices, which would be supportive of the index-linked bond asset class currently in high demand. Emerging market currencies have also exhibited sharp rebounds against the greenback, including the Turkish Lira (helped by monetary tightening measures) and Latin American currencies which had been a target for speculative accounts throughout the year (the Brazilian real is still down 24% in 2020).
As concerns cryptocurrencies, which can be thought of digital anti-dollar currencies, prices have skyrocketed in the past few weeks. Bitcoin indeed gained 33% against the US dollar in November rising to a market capitalization of more than $400b. The 10% correction in the middle of last week that appears traceable to Chinese authorities' crackdown on a $4b cryptocurrency Ponzi scheme is nevertheless a stark reminder of risks underlying the dubious construct of crypto-asset markets.
Market optimism may be the greater risk

Surveys of individual investors in the US depict a level of bullishness unseen since the first quarter of 2018… when massive unwinding of short volatility structured products caused significant market turmoil. Market fragility is usually a function of consensus positioning amongst active investors.

Still the worrisome sanitary backdrop calls for caution. Recent lockdown measures have tipped European economies back into contraction territory in the fourth quarter whilst US growth appears likely to slow markedly in the months ahead. Hopes for Fed easing (Operation twist) and ECB accommodation continue to foster the buildup of long positioning on stocks and spread products. Furthermore, institutional investors may have no choice but to capitulate even as yields levels grind to new lows. The yield on 10-year Portuguese bond indeed fell below 0% last Thursday. Downward pressure on sovereign spreads is all the more evident as Japanese institutional accounts weigh in across peripheral sovereign bond markets. Clearly the promise of PEPP extension and new TLTROs, on December 10th, seem to justify any market levels. It is nearly impossible for investors to lean against artificial excess demand for bonds stemming from Central Bank accommodation. Net supply forecasts of IG credit bonds and sovereign bonds for 2021 appear consistent with a reduction in bonds available for investors.

The ECB meeting will coincide with the EU summit, which may be the last opportunity to iron out differences on the 2021-2027 European budget and recovery fund and potentially validate any Brexit deal.

Sterling did depreciate slightly against the single currency last week finally showing some reaction to the lack of advances on Brexit negotiations.

In this context, one should not rule profit taking around December 10th.