The expert magazine of Ostrum AM
Read weekly markets analysis by Axel Botte, our Global Strategist.
Key Points
Campaign coming to an end with Biden ahead in polls
US bond yields higher, at odds with Bunds
Equity markets plunge, risk aversion rising
High yield spreads wider, amid higher volatility
Financial markets remain focused on US elections and the sanitary backdrop in Europe. Equities lost more than 5 % last week as US long-term yields crept higher and the dollar strengthened. Ten-year US yields hit a weekly high at 0.87 %. Some earnings publications of technology companies turned out to be disappointing. The yield on 10-year German Bunds (-0.63 %) remain insensitive to upward pressure on US Treasuries. The ECB made it clear that monetary easing will be extended in December. PEPP will expand and the terms Of TLTROs will likely be eased. Sovereign spreads have not changed significantly despite some profit taking on Italian BTPs (141bp). A widening in swap spreads sparked some underperformance of financials' bonds. High yield spreads rose by 30bp, led by CDS spreads and high equity implied volatility. US high yield also widened after oil prices plunged in response to a deteriorating demand outlook. Shortdated inflation expectations fell but 10-year TIPS breakevens remained unchanged about 170bp.
The dollar gained against the backdrop of higher risk aversion. The euro depreciated following the ECB's message whilst the yuan and the yen resisted to the run-up in the greenback. The Australian dollar adjusted lower reflecting the outlook for further easing (rate cut and additional QE).
Chart of the week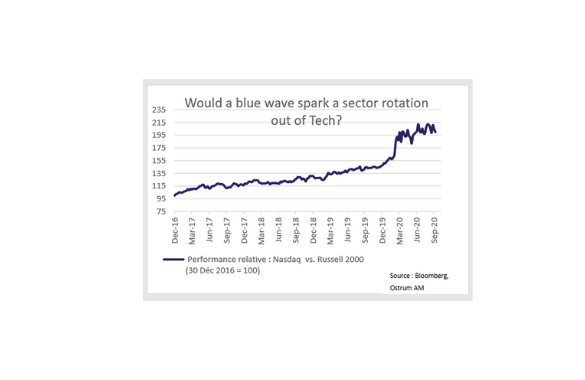 A blue wave scenario may imply a significant change in equity market dynamics. Tax changes proposed by Joe Biden including the introduction of a minimum tax rate and lower allowance on intangibles will hit technology giants more than most corporations.
Given high valuations of Technology companies and sharp outperformance in the past year, there is considerable scope for Russell outperformance going forward. That said, small-cap earnings have been weak, so tax policy on its own won't be enough.
US elections: the risk of a contested outcome

The electoral campaign is coming to an end in the US. The latest polls still point to a broad victory for Biden and a Democratic majority in both the House of Representatives and the Senate. That said, several battleground states remain toss-up cases and the outcome expected on November 3rd may well be contested by the Republican Party for days or even weeks. The count of mailed-in votes will likely take a few days. A prolonged institutional lock jam would delay expected fiscal stimulus, indeed needed to further strengthen the nascent economic recovery. US GDP picked up between July and September with 33.1 % growth at annual rate after an unheard-of contraction in 2q20. Activity remains some 3.5 % below the previous peak level of 4q19. The rebound in household demand including higher durable goods' spending and residential investment drove the recovery so far. Business investment (capital goods) performed strongly even though structures (-15 %) and R&D spending remain lackluster. Foreign demand and public spending subtracted from GDP. October manufacturing surveys are reassuring as regards the economic outlook but one cannot rule out new restrictions linked to the sanitary situation in the wake of the European second wave.
The acceleration in the epidemic across most European countries occurs at a time when growth was showing signs of life in 3q20. Flash estimates showed faster-than-expected improvement in activity in France (+18.2 %q), Spain (+16.7 %) and Italy (16.1 %). A downturn in activity in 4q20 (by about 4 or 5 %q) appears inevitable due to renewed lockdown constraints. In France, GDP contraction may fetch 10 % in 2020. The government estimates that the crisis will cost €186b, including 100b of lost revenue and 86b worth of spending. Public debt will skirt 120 % of GDP.
The economic cost of the pandemic will force the ECB to prolong its monetary easing. Christine Lagarde announced a full review of the ECB policy toolkit. As the Central updates its set of economic projections, policymakers will likely decide to expand the PEPP program (by €500b to be deployed in the second half of 2021?) and a recalibration of TLTRO terms (bonus rate, accepted collateral, maximum amount…). Inflation weakness (-0.3 %y) gives the ECB full flexibility to maintain easy monetary conditions.
Speculators maintain curve steepening pressure

Tensions in US long yields are at odds with higher volatility in risky assets and ongoing monetary easing in several regions. The rise in yields provided support to the US dollar. Besides the US election and the FOMC, the quarterly refunding announcement this week could turn out to be a Treasury bond market mover. Speculative accounts accumulate short positions in bonds contributing to the rise in 10y yields (0.87 %) and curve steepening more broadly (128bp on 5s30s). Duration sold to the market may increase further whilst the Fed is not yet ready to lengthen the average maturity of bond purchases. New intervention may be required if fiscal deficit increase further. In Europe, PEPP extension maintain a lid on 10-year Bund yields (-0.63 %) which keeps trading below the deposit rate. We have observed some profit taking on Italian bonds (around 140bp on 10-year maturities). Spanish (77bp) and French (26bp) sovereign spreads barely budged. In turn, the euro's depreciation proved insufficient to prevent a contraction in inflation breakevens amid plunging oil prices.
Equity markets took a nosedive last week. Europe dropped by 7 % after a profit warning by a major technology sector company. Banks and insurers remain under significant pressure. In the US, quarterly earnings releases revealed a significant majority of upside surprises. Aggregate earnings are down about 6 % from a year ago, despite double-digit growth in technology (+10 %), health care (+13 %) and consumer services (+14 %). Valuations nevertheless remain quite stretched above 20x 12-month forward EPS on the S&P 500 index.
In credit space, there was a bit of a pullback last week. The average spread on IG rose 5bp with some underperformance from the financials sector in the wake of modestly wider swap spreads. Credit funds have recorded outflows since mid-September. High yield also proved quite volatile, the rise in equity volatility fostered hedging demand pushing iTraxx XO wider (370bp, +31bp).
Dollar firming up

The rise in the US dollar is evidence of a risk aversion bout, notably against volatile emerging market currencies. Fed reluctance to further expand its balance sheet does reinforce the dollar's safe haven status. The Chinese yuan and the Japanese yen however held their grounds against the greenback. The euro pulled back towards its technical support level of 1.163$ and the Australian dollar weakened amid expectations of RBA policy easing.