The expert magazine of Ostrum AM
Read weekly markets analysis by Axel Botte, our Global Strategist.
Key Points
Worries about euro area, growth gap with US set to widen
Brexit: no-deal is ever more likely
T-note spreads vs. Bunds increase
US stock markets outperform in October
Yield curve flattening accelerated in the euro area with Bund yields trading below -0.60 %. Capitulation flows seems to have weighed ion long-term yields. In turn, T-note yields hesitated to follow Bunds and closed last week unchanged despite a brief dip below 0.70 %. The November election and the fiscal outlook contribute to wider T-note spreads vs. Bunds. Gilts appear unaffected by a lack of progress in Brexit talks and a rating downgrade to Aa3.
The acceleration in Bund yield contributed to wider sovereign spreads. Italian 10-year BTPs are trading around 130bp. High yield underwent volatility in European equity and widening by 14bp from a week ago. US high yield was unchanged against a different yield backdrop. We have observed a slight increase in spreads on emerging market debt. As concerns equities, S&P maintained an 5 % outperformance against European indices since the start of the month.
The dollar picked up, pushing the euro down to $1.17. In Australia, the accommodative stance of the RBA points to QE extension in November. The Australian dollar erased part of its earlier rebound in October before stabilizing in the wake of solid Chinese data. The Chinese Renminbi is trading below 6.70, up 1.5 % in October.
Chart of the week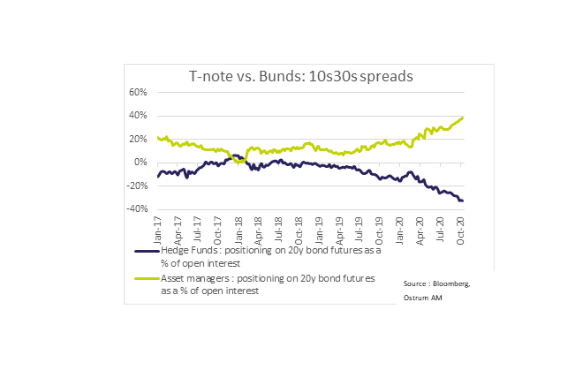 Recent trading in long-end yields seemed to have benefitted speculative accounts which expanded their short stance over the past few weeks. Fiscal easing and no operation twist from the Fed fostered implementation of strategies betting on higher yields.
In turn, asset managers, including asset allocators, need duration to hedge exposure to risk assets, including equities and credit. Hedging characteristics are nevertheless questioned by many given current valuations.
The US-Europe divide

There is a growing divergence between the trends in Bunds and Treasury bonds. At the start of this week, the 10-year German bond is trading at -0.62 % compared with 0.77 % on US yields. The T-note spreads vs. Bunds indeed rose 19bp since the start of October. Equity indices show similar divergence. The S&P 500 is up some 5 % in October whilst European indices are trading sideways. Such financial trends highlight a growth gap and uncertainty in economic policymaking going forward.

Sanitary measures to contain a second wave in Europe is a significant brake to the nascent recovery. Service surveys have rolled over since August so that activity growth may have hit its peak already in southern Europe. Preliminary October PMIs may confirm the downturn in the service sector. In France, INSEE forecasts hint at zero growth in the fourth quarter. Activity in France stagnating about 5 % below the pre-crisis level. In the US, growth appears more robust. Growth in 3q20 may come in at 35%qa and manufacturing surveys imply a continuation of the recovery. Household consumption has proven resilient to the sharp reduction in federal unemployment benefits since the end of July. Retail sales bounced in September (+1.9 %m) thanks to strong demand for automobiles, as sales are back to their pre-crisis level. Available savings and mortgage debt refinancing have buoyed consumer demand despite increased number of bankruptcies and permanent job losses. Thus, economic factors partly explains the underperformance in US Treasuries.

On political grounds, the rising probability of a Democratic sweep paves the way for fiscal easing. Joe Biden's plan promotes and education spending and research investment financed by tax increases beyond 2022. Ongoing partisan brinksmanship should be ignored by investors as it is pretty clear than stimulus will be enacted. Conversely, the European recovery fund may be slowed by governments opposed to Brussels interference. The 390b worth of subsidies will be allocated but some governments may wish to avoid the stigma associated with EU loans. The ECB will keep promoting very accommodative financing conditions with a PEPP extension worth 400b to be deployed in the second half of 2021. Inflation is extremely low whilst consumer price increases gather pace in the US (1.4 %y in September). The ECB is seemingly taking account risk to the implementation of the EU recovery fund. Conversely, the Fed appears reluctant to intervene before any fiscal deal. Furthermore, current negotiations between the UK and the EU leave little hope for a favorable outcome on Brexit. The downgrade in the UK sovereign rating (Aa3) reflects an economic shock that Sterling (£0.903 against the euro) and Gilts continue to ignore.
Hold on to long Bund duration

Bunds appreciated in the past week hitting a week low at -0.63 %. The reduction in German government bond issuance in the fourth quarter and the expected PEPP extension enhanced excess demand for German debt securities. In 2021, the Bund market will shrink by about €350b assuming a 400b top-up on PEPP. Persistent excess savings force institutional investors to reach for yield along the curve and capitulate to capture historically low levels. The yield on 30-year France OATs is barely above 0.30 %. The current level of asset swap spreads (43bp on 30-year OATs) may encourage further institutional buying ahead of October 25th OAT redemption payments worth €30b. The broad-based consensus on long duration position and overexposure to peripheral sovereign may hence hold. In turn, one should be more cautious on US Treasuries and hold on top 10s30s steepeners ahead of Wednesday's 20-year bond auction.
Outflows from European credit funds

Corporate credit spreads widened last week in the euro area, with some underperformance from the financial sector. The Euro IG spread stands at 113bp against Bund. Credit fund and ETF flows have turned negative in the past few weeks. That said, corporate bond issuance continue to attract solid demand as evidenced by negative premiums relative to secondary market levels. Financials also underperformed significantly both utilities and industrials. High yield bond spreads shot up reflecting increased demand for protection. The Crossover index spread indeed rose 16bp last week to 325bp. By comparison, US credit markets proved quite resilient last week.

In equity market space, the October performance gap between the S&P 500 and European indices was maintained last week in spite of a pullback in technology stocks ahead of many earnings releases from this sector this week. The first read on financials earnings turned out to be quite positive. Trading revenue and a reduction in provisions for loan losses contributed to positive earnings surprises. On 51 publications, we have observed a majority of positive surprises although one should keep in mind that earnings are down 18% from a year ago. In Europe, financials continue to struggle in the current low interest rate environment. Consolidation in the banking sector may provide a boost to the sector but the performance gap to the broader is huge.