The expert magazine of Ostrum AM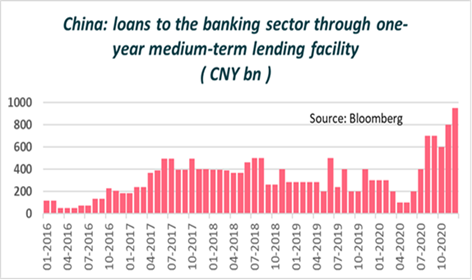 China's strong recovery has given rise to much speculation about an imminent "normalization" of its monetary policy. The record amount of liquidity injected into the banking sector, CNY 950 bn, or $ 145 bn, by the Chinese Central Bank indicates that monetary policy will remain flexible and targeted.
Funding for the banking sector has come under pressure due to the rise in highly rated corporate defaults. Fears about a liquidity crisis kept the 10-year sovereign bond yield at its highest since November 2019 at 3.3%. The Chinese banking sector will remain under pressure as corporate defaults are expected to continue in 2021, which will involve Pboc intervention.