The expert magazine of Ostrum AM
Solid US growth driven by pro-cyclical fiscal policy has put the country well ahead in the world growth cycle.
Meanwhile, economic activity on emerging markets remains higher but has tailed off somewhat, firstly with China, which has to deal with a shift in its growth model and secondly as a result of the various protectionist moves from the Trump administration. This divergence has triggered a sharp surge in the dollar and this is further driven by risk aversion as a result of concerns on the impact of US border duties on world trade. Country-specific crises in Turkey and Argentina over the summer had been brewing for quite some time so pressure from the dollar along with expectations of its continued rise were the straw that broke the camel's back.
However, we think that the last quarter of 2018 could mark a turning point for the US dollar and hence for emerging debt (see chart).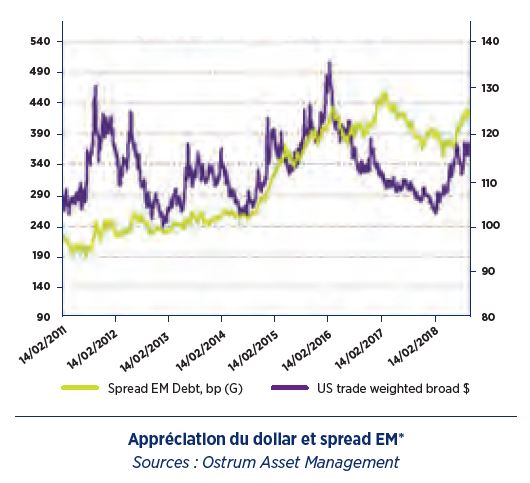 The US's renowned economic headway could dwindle as a result of an expected easing in inflation, an alarming fiscal deficit and the midterm elections. Argentina and Turkey are not out of the woods yet, and are set to undergo a phase of severe macroeconomic adjustment, but after an excessively long phase of inaction, governments are now adopting new more orthodox policies. More importantly, with risk premiums of between 450bps and 650bps – i.e. a 5-year risk of default of 25-35% – we think that these risks are now sufficiently priced in.
Brazil stands at a crossroads
Another major event right throughout the month of October will be the Brazilian elections, as voters go to the polls to choose a president, two thirds of senators (federal) and entirely renew congress. At this point all bets are off and we do not know just who will be able to embark on a real reform of social security, which is deemed vital to sustain public finances and the country's development. This is a key challenge for Brazil. In our view, the 320bps spread on sovereign debt barely compensates investors for these uncertainties.
Overall, we think that weaker pressure on emerging currencies would have a fairly hefty positive impact on international sovereign debt (in USD). Risk premiums of on average 350bps and average yield of 6.5% (vs. 3.1% for the US Treasuries index) already factor in a lot of specific and overall uncertainty.

Emerging Debt Management Team

* Spreads and yields mentioned are on the JP Morgan EMBI Global Diversified and JP Morgan GBI US.