The expert magazine of Ostrum AM
This content is only available in French.
L'enquête PMI/Markit publiée pour le mois d'août révèle un léger recul de l'indice synthétique d'activité en zone Euro pour le 2ème mois consécutif (à 50.8 contre 51.1 en juillet).
L'indice reste légèrement supérieur au seuil de 50 (signalant une stabilité de l'activité) présageant d'une croissance un peu plus modérée durant l'été.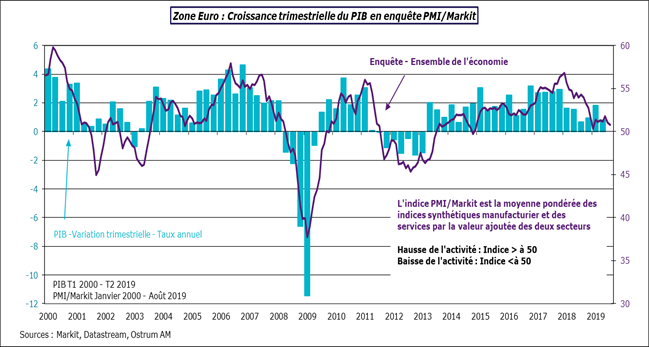 Le secteur manufacturier se contracte fortement et ceci pour le 7ème mois consécutif. L'indice reste très inférieur au seuil de 50 (à 47), sur des plus bas depuis avril 2013. Le secteur des services se modère pour le 2ème mois consécutif (indice de 52 contre 53.1 en juin). L'activité continue de croître mais à un rythme plus réduit.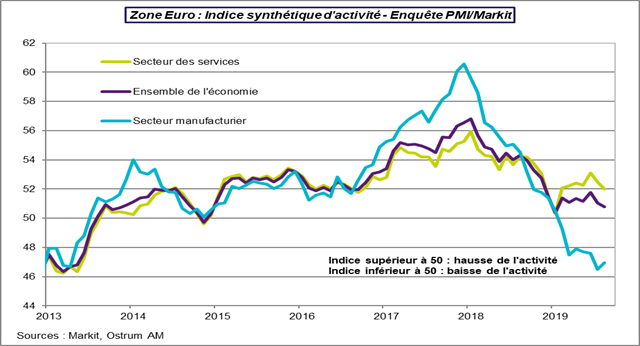 En zone Euro, les commandes à l'exportation baissent toujours fortement (46.2) et de manière encore plus prononcée en Allemagne (41.8). Cela reflète la nette inflexion du commerce mondial consécutive à l'intensification des tensions commerciales et la plus grande dépendance de l'Allemagne au commerce extérieur. En France, les commandes étrangères se stabilisent.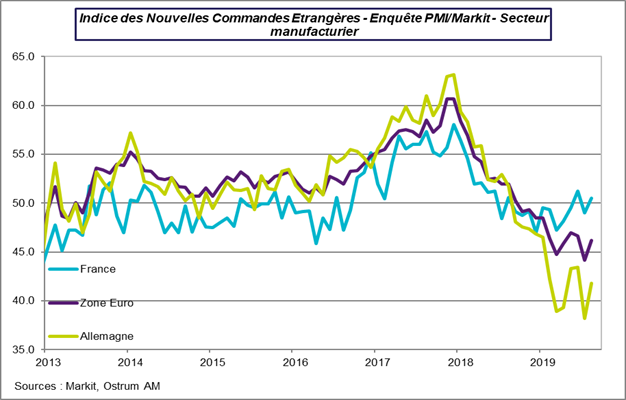 La dichotomie entre la France et l'Allemagne est forte au regard de l'évolution des nouvelles commandes concernant l'ensemble de l'économie. Elles accentuent leur baisse de l'autre côté du Rhin (plus fort recul depuis avril 2013), faisant craindre une contraction plus importante du PIB au cours des prochains mois, alors que les commandes s'accélèrent dans l'hexagone.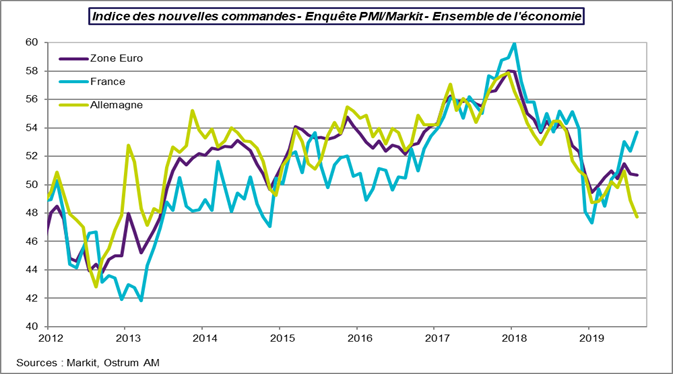 En Allemagne, l'indice d'activité synthétique concernant l'ensemble de l'économie (moyenne pondérée des indices synthétiques d'activité des secteurs manufacturier et des services par leur poids dans la valeur ajoutée) passe franchement sous le seuil de 50 (à 49.1 après 49.9 en juillet) pour la 1ère fois depuis juin 2013. Cela présage d'une contraction du PIB au 3ème trimestre pour la 2ème fois consécutive signalant de ce fait l'entrée en récession de l'économie germanique.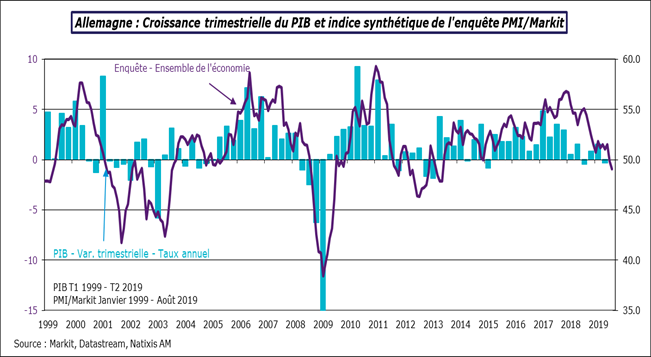 Le secteur manufacturier allemand est affecté de plein fouet par la forte contraction des commandes étrangères. Cela affecte désormais la dynamique du secteur des services dont l'activité s'est nettement infléchie en juillet et en août.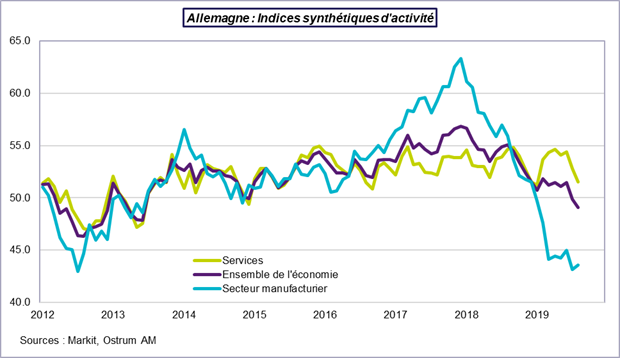 La France se démarque du reste de la zone Euro avec un indice synthétique qui se raffermit légèrement en août (à 52.6), cohérent avec le maintien d'une croissance modérée.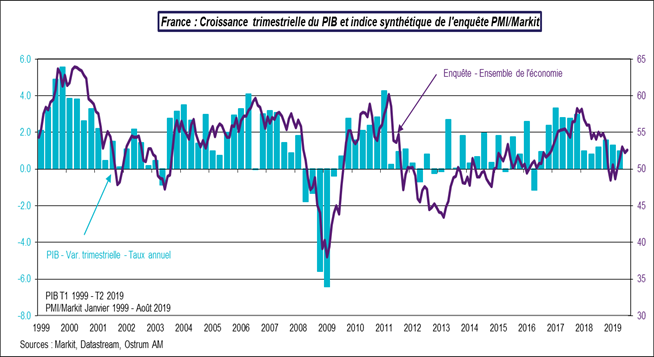 Selon Markit, l'activité dans le secteur manufacturier des autres pays de la zone Euro s'est également contractée au mois d'août, ce qui a été compensé par une hausse de l'activité dans celui des services.

Conclusion
La croissance en zone Euro ralentit en raison de la forte contraction du secteur manufacturier. L'Allemagne est la plus affectée en raison de sa forte dépendance au commerce extérieur et de l'importance de ses échanges avec la Chine. L'enquête du mois d'août présage d'une entrée en récession de l'économie germanique, les difficultés rencontrées par le secteur manufacturier se propageant à la dynamique de celui des services.
Cela contaste avec l'économie française dont l'enquête signale le maintien d'une croissance modérée, celle-ci étant moins exposée au fort repli du commerce mondial. Face aux moindres commandes quil leur sont adressées et à la hausse de l'incertitude liée à la montée des tensions commerciales, à la crise politique en Italie et au risque d'une sortie brutale du Royaume-Uni de l'Union Européenne le 31 octobre, les chefs d'entreprises de la zone Euro deviennent plus prudents. Cela se voit notamment au travers de l'inflexion de la composante emploi de l'enquête PMI/Markit depuis juillet mais aussi d'autres indicateurs présageant d'un coup d'arrêt de l'investissement productif. Cela fait craindre une modération de la demande interne. Cette enquête devrait ainsi conforter la BCE dans sa décision de rendre sa politique monétaire plus accommodante lors de la réunion du 12 septembre via l'annonce d'un ensemble de mesures pouvant notamment comprendre une baisse des taux d'intérêt et de nouveaux achats d'actifs financiers.